Working in stoneware, my mythical figures are emerging. My inspiration comes from the Fornnordic, Celtic and Egyptian traditions as well as from the animal kingdom and sagas of old. Sometimes my totem animals come through and show themselves… Send me an email if you want to purchase an item.
Hare Spirit
White clay, iwhite crystal glaze. Stoneware
24 cm tall
4 000 SEK
Water Spirit
White clay with green and white glaze, stoneware
22 cm long, 6 cm tall
Private collection
Freckled Sheep
White lava clay, copper oxide and white glaze. Stoneware
15 cm tall
4 000 SEK
Snow Leopard
Red clay with white glaze, stoneware
15 cm tall
4 500 SEK
Secretive and mysterious, the Snow Leopard is seldom seen in the Himalayas. Only his tracks on the snowy slopes gives him away… He is a shapeshifter, a shaman among animals and Pakistani people regard him as a Mountain Spirit. When there's Snow Leopard imagery in your dream, it whispers of the many mysteries awaiting you. It's time to seek your soul's purpose.
Anubis
White clay with cobolt blue oxide, stoneware
24 cm tall
5 000 SEK
Polarbear
White lava clay with green and white glaze, stoneware
12 cm tall, 20 wide
Private collection
Nanook
White lava clay with green and white glaze, stoneware
10 cm tall, 20 cm wide
3 000 SEK
Nanook or Nanuq is in Inuit mythology in North America originally a shapeshifter shapeshifting into a polar bear. He was the king of polar bears. The Inuit people had great respect for the polar bear from whom they got both meat and fur. The myth tells us the story about how he was chased up into the sky by dogs. He can now be seen in the constellation of the Pleiades.
The Horned God
Black clay, stoneware
26 cm tall
6 000 SEK
Nubian Lion
Red clay, glazed stoneware
14 cm tall
4 000 SEK
Sheep
White clay, glazed stoneware
15 cm tall
Private collection
Eagle Hunter
Black clay, stoneware
15 cm tall
2 000 SEK
Moon Hare
White clay with lavadots and black glaze, stoneware
20 cm tall
2 500 SEK
Unicorn
Black clay with white engobe, stoneware
26 cm tall
4 500 SEK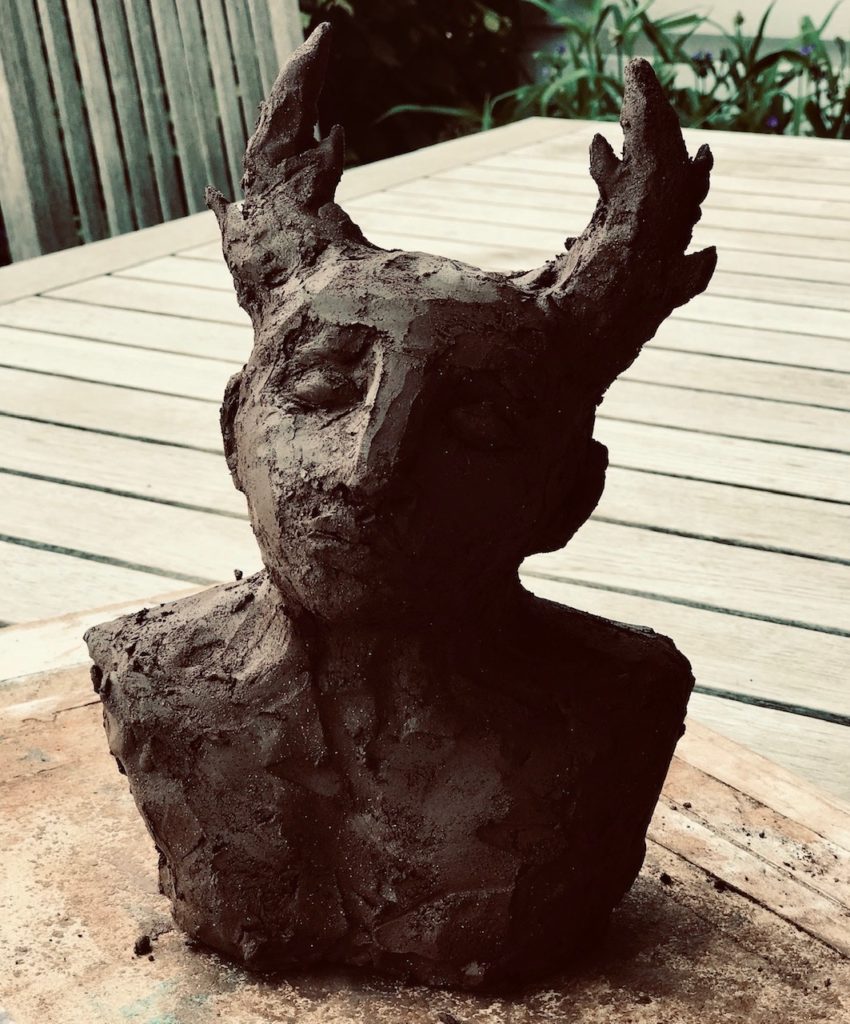 Faun
Black clay, stoneware
28 cm tall
Private collection