Reconnect with your forn nordic heritage, the power and sagas of the land. Listen to the ancient song in your blood while travelling in the majestic wilderness of northern Iceland…
Come with us on horseback into the Icelandic powerful scenery. We will meet the ancient memory keepers the Humpback Whales and visit power places and waterfalls. You will learn how to draw and paint expressive landscapes and animals, keeping a painted and drawn diary during the week. We will also work intuitively to connect with the horses and do some yoga sessions, adapted to riders.

Iceland holds many secrets. When building roads, the state makes great efforts not to make the little people irritated. You can easily connect with other realms when travelling the land on horseback and meditating on the power places of old.
Sunday 31st of May-Sunday 7th of June 2020 me and dutchborn horselady Marjolein van Leusen will hold a 8 day and 7 nights journey to majestic Iceland. We will stay in the beautiful north of the island around Akureyri at Sandra Marin Stefánsson's horsefarm. Sandra will assist us during the week on horseback, whalespotting and visiting the enchanted land. If you want, you can visit the capital Reykjavik before or after on your own. Bring your paint, brushes, sketchbook and riding gear and join us on an unforgettable journey!
A video with me and Marjolein:
Your guides on this trip
I, Maria Collinder, have been around horses since I was a child and lived on the countryside in the summer at a farmplace in the south of Sweden. When I started my healingcareer, I started healing and communicating with horses. When realising they mirror their owners, I gave it up and started healing humans instead.
But I never let go of my fascination for these magnificent telepathic animals. I had an icelandic horse shared time for some years. Today I ride mainly western horses even though I still go for outings on icelandic horses. What I love with the pure icelandic bred horses is that they are more like wild animals like deer, still with their free spirit intact.
During the journey I will guide you to interact intuitively with your horse so that you find a greater harmony together.
A video with me on Hlekkur with some information: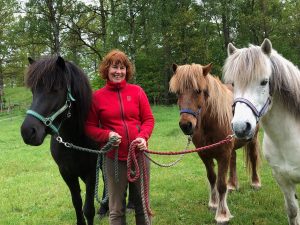 Marjolein van Leusen was born and raised in the Netherlands but she has lived in Sweden for more than thirty years. She bought her first Icelandic horse at fifteen for her own money. Since then, she has not been horseless for a single day. Many horses have followed her on her life journey. The herd has been large and sometimes smaller, but the horses have always been there, even in her professional life.
For twentyfive years, Marjolein was a highly regarded editor of the Swedish Icelandic Horse Association's members magazine. She has a large network of contacts in the Icelandic horse world. Marjolein has often been to Iceland and ridden long tours in the mountains, several times as a tour guide.
During our trip, she will share her lifelong experience of a unique and original horse – the horses the Nordic Vikings brought with them to Iceland more than one thousand years ago. Icelandic Horses – The Horses of the Gods.
This one week journey will include:
3-4 days on the lively icelandic purebred horses, spread out over the week (depending on the weather)
Whale spotting excursion
Painting sessions outdoors and indoors
Visiting the magical lake area Mývatn with waterfalls and hot springs
Akureyri towntrip with shopping and visiting the Art Museum
How to connect intuitively with your horse
Easier yoga sessions for riders
Visiting sacred power places where we connect with our forn nordic heritage, our past life lineage and other realms
Music evening at the farm
Preliminary Itinerary:
Day 1: Arrival Reykjavik, transfer to domestic airport and 45 minutes flight to Akureyri in the north. Settle at farm, walks in the majestic surroundings. Mingling, information and welcome dinner.
Day 2: Horseback adventure, 3-4 hrs ride depending on weather. Lunch outdoors. Painting and drawing in the studio afternoon. Evening meditation.
Day 3: Whalespotting, 45 min busdrive to the northeast coast. Lunch outdoors. Afternoon painting and drawing in the studio. Chilling out at the farm.
Day 4: Horseback adventure, 3-4 hrs ride depending on weather. Music night at the farm with local musician.
Day 5: Visit to the area of Myvátn. Meditation, chanting, painting. Full day.
Day 6: Horseback adventure, 3-4 hrs. Painting, meditation and chilling out at the farm.
Day 7: Akureyri with shopping, lunch and visiting the Art Museum. Painting in the afternoon or evening.
Day 8: Goodbye breakfast. Flight back to Reykjavik and home.
Itinerary open to changes depending on the weather.

We stay in shared double rooms at the nearby neighbour farm B&B where we also have our temporary studio space. More information coming soon.
If you feel the pull, please contact me for prices and more details here:
Den varsamme gästen,
som till gille kommer
tiger under lyssnande tystnad;
med öronen hör efter,
med ögonen skådar,
så spanar var klok och spejar.

From Hávamál, attributed to Odin,
Icelandic lore from 900, written down in 1270
Translated into Swedish

Sceneries from Iceland