I give Spiritual Courses and Painting Classes in my studio at Strandvägen 111 in Lomma. The classes are exclusive and focuses on giving maximum support to a few number of participants in order for you to grow your own artistic language in a sustainable way.
The venue has a narrow stair and no elevator. The Painting Classes in my Art Program have a maximum of 5 participants. Spiritual Courses 8 participants. At the moment I give the courses only in Swedish.
Våra kurser presenteras även på kurser.se
Spiritual Courses:
The Inner Wedding, step I, 4 meetings in my studio 2,5 hours. A deepening course in integrating our feminine and masculine sides to get full power in your life. You will get a compendium and exercises during the course. Dates coming Spring 2021.
My Art Program consists of 5 different Classes and Workshops. Upcoming 2021:
Basic Class, a class in the basics of acrylic painting. 14 occasions Tuesday afternoons at 12.30-4 pm. Starts 2 of March
Advanced Class, continuation of Basic Class. 14 occasions Tuesday afternoons at 12.30-4 pm. Starts Monday 1st of March.
Advanced Class II, a deepening course for more advanced painters and artists who wants a group to work together with. 7 occasions every second Thursday afternoon. Starts 4th of March.
Expressive Landscape Painting, 2 weekend workshops with 36 hours of landscape painting. Part One 22-24/1 February and part two 5-7/2.
Intuitive Painting & Meditation, a more spiritually based painting class. No previous experience needed.
7 occasions every Thursday afternoon. Starts 7th of January. You can also try it out as a summer course. Dates coming later in Spring.
COVID 19
During the epidemic, I reduce the number of people in my studio to 5 participants. We keep distance and the place is cleaned regularly with antiseptics. If you feel ill in any way, you stay at home and can of course participate in any other class on another occasion during the term.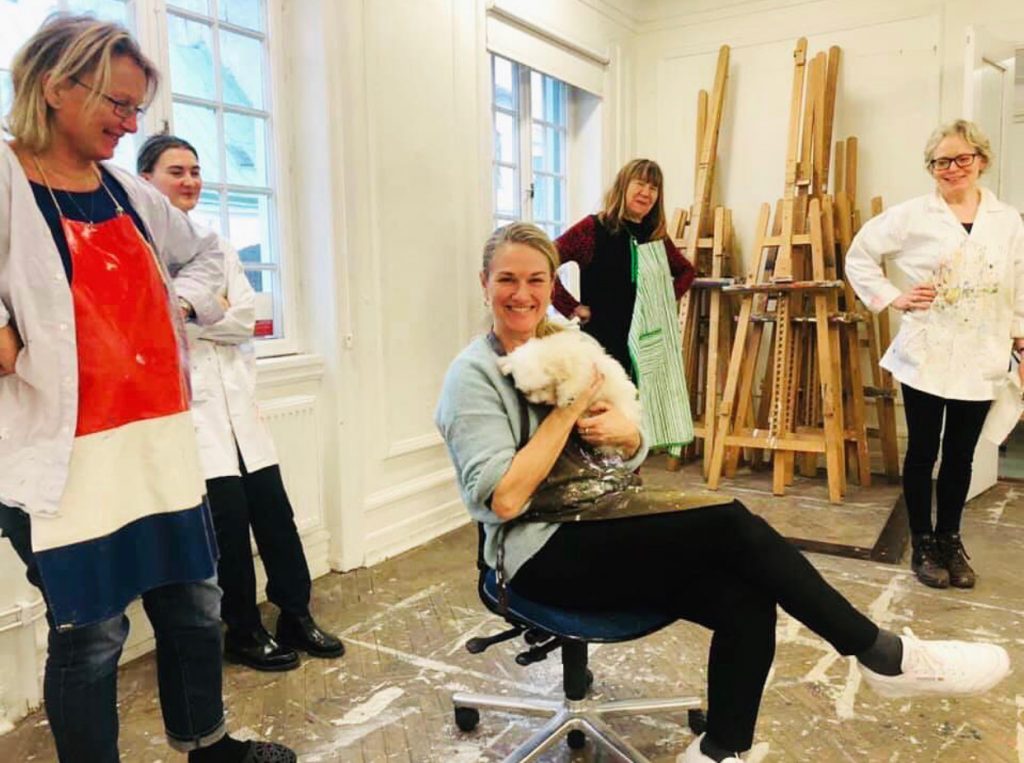 Courses and Classes in English
For now, I mostly give my irl courses and classes in Swedish. If you are curious to know more about them please click the translate-into-English-pop-up-window or contact me here:
If you are five or more who want to have a Spiritual Course like The Inner Wedding or a Painting Class like Intuitive Painting & Meditation in English, it's possible. Contact me for prices and more information above.